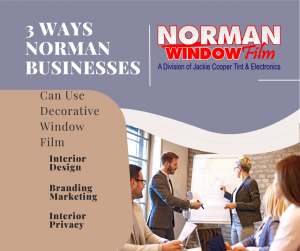 In order for businesses to maintain the best image it is always important for the building to make a good impression on your customers. For those Norman business owners wanting to make the most out of their budget and really make their commercial space look good, window film has always been a favorite. Here are 3 ways that Norman businesses can use decorative window film.
Benefits of Decorative Window Film for Your Norman Businesses
Interior Design: There are many design options in decorative window film. There are frost films, colored films, and textured films. You can add film to glass, an elevator, a mirror, most any space that needs that extra attention.
Branding and Marketing: Decorative film is great for your branding and marketing needs. These films are highly customizable and can portray anything from your company logo to an upcoming event or a promotion.
Interior Privacy: Decorative film can also be used for privacy needs in your commercial space. It can mimic the look of frosted or etched glass which provides a more affordable option than glass replacement. You can even customize for both privacy and light diffusion.
Work with Norman's Trusted Decorative Window Film Experts
Norman Window Film is proud to be the trusted decorative window film expert serving the Norman and surrounding areas. Our team of designers can help you bring your vision to life.
For more information regarding all the different decorative applications available, please contact us!