Having privacy in your bathroom is very important. If you have a window in your Norman home that overlooks a neighbor or busy street, this privacy becomes a little more difficult.
Thank goodness for Privacy Window Film from Norman Window Film.
Window Films Are A Great Options For Bathrooms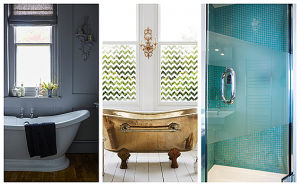 Curtains are not a good choice for creating privacy in your bathroom. Decorative privacy film is a great alternative. With privacy film you can still enjoy an elegant and modern appearance, privacy without curtains or blinds and privacy film allows for the natural light to come through.
Many Privacy and Decorative Film Choices
When it comes to privacy film, the possibilities are endless. Window films come in many types, textures, designs and shades. You can create any look you would like for a very affordable price. Frost film is a popular privacy choice for many Norman bathrooms. Below we have shared some of our favorite privacy film applications in bathrooms. We hope they will inspire!
Give Norman Window Film a call to get an estimate on privacy film for your Norman home.